Video Monitoring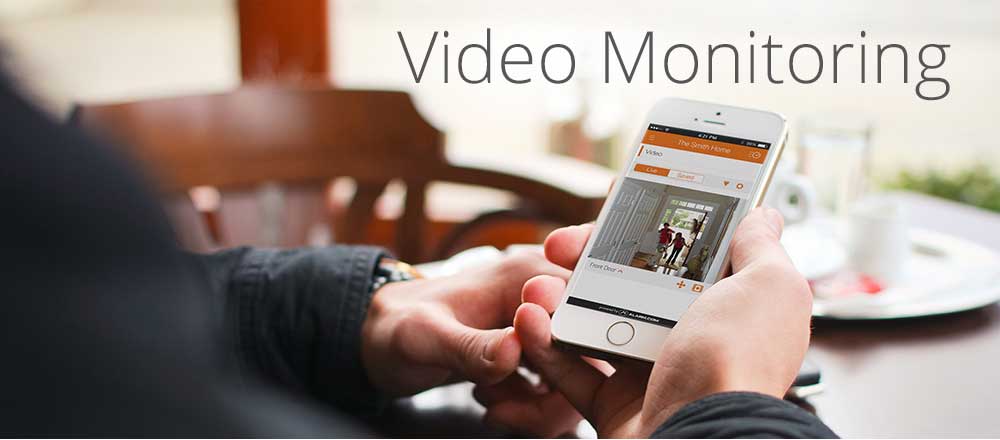 Our Video Monitoring solution lets you see what's going on at your property, even when you're not there. Now, you can see who's pulling in the driveway, get a video alert when someone comes through the front door or just check in to see how your favorite pet is doing.
Key Benefits:
Watch live video on your smartphone, tablet or computer
View recorded clips to catch up on what you missed
Schedule recordings when there is motion, a door opens or the alarm goes off
Get video alerts instantly sent to you via text or email
Stay protected with tamper proof, off site video storage
Live Streaming Video
Watch live feeds from your property right on your phone, tablet or computer. See what's happening anywhere on your property, at any time.
---
Video Alerts
Smarter than traditional stand-alone video monitoring, Alarm.com video monitoring is connected with your security system, allowing you to set recording triggers when activity is detected. You can choose to receive video alerts by text or email, and customize them by time, day, camera and motion.
---
Smart Clip Capture
Our recorded video features make it easier to stay on top of what's happened at your property. Our video cameras work around the clock, hand-in-hand with your security system.
---
Continuous Recording
We offer the ability to capture 24/7 high definition recording through the Alarm.com Stream Video Recorder (SVR). It enhances the video monitoring service with the addition of a high performance, continuous video recording solution. The new solution captures a 24×7 stream of what's happening at a property and provides cloud-based streaming and video clip access from anywhere.
24/7 Video Recording
Remotely Viewable
HD Capture
Bandwidth Optimized